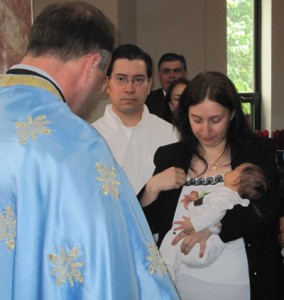 On May 9, 2010, Robert had his Forty Day Blessing. This is a traditional blessing that takes place when the Mother brings her child to church for the first visit. The blessing includes appropriate prayers for the safe delivery of mother and child, and the formal presentation of the child to the Church for the first time.
To make things more special for Robert and Hristina, this day was also Mother's Day!
Robert was "squirmy" during the blessing, according to the Priest. After church we had lunch at the Cheesecake Factory.
Below is a recent picture of Robert on his Rainforest play mat.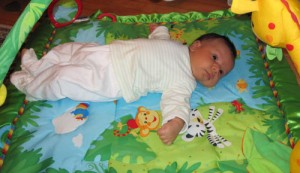 As an additional note, I have now set up RSS feeds and email subscriptions for the site. You can add the feed for Robert.me to your feed reader or sign up to have an email sent every time there is a new post.